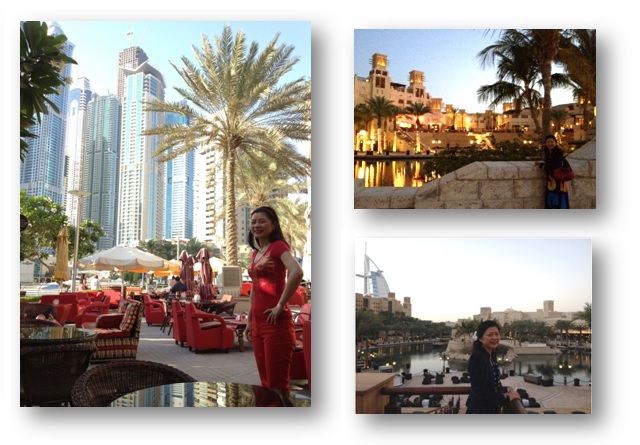 Dubai
Is like a mystery lady with a veil
Let one be filled with admiration, curiosity and imagination.
Breath-taking skyscrapers
and unique architecture.
Magnificent green sea and white sand;
luxurious decorations.
A bustling city that never sleeps;
an abundance of exquisite stores.
The airport's lively sea of people,
let one forget about all worries and yesterday.
There are maternity and baby stores everywhere.
You have to believe
the future and hope really exist!
Walking on this vast desert,
happiness, freedom, enjoyment, laughter.
Holding my husband's hand,
his arm surrounds my shoulder.
Feel so at ease and warm at heart,
leaning on love's embrace.
Lightly being held,
lie in the hollow of his palm.
Admiring the world's tallest building,
there is still unlimited space above, reaching into infinity
At that moment, all the giant objects around me become small,
I am like a drop in the ocean.
I want to be myself.
Heads up and taking big strides across the free land,
unlimited love is what I will slowly share.
By Hellen Chen
Dubai Tour 2013
杜拜
像一個遮著面紗的神秘女郎
讓人充滿欣賞、好奇與遐想
一棟棟的奇特大樓
一座座的獨特建築
絢麗奪目的碧海白沙
極盡奢華的擺設裝飾
燈紅酒綠的不夜城
絡繹不絕的精品店
機場的熱鬧人潮
叫人忘卻一切煩惱與昨天
處處可見婦幼門市
叫人不得不信
未來及希望確實存在
走在這片大沙漠
快樂,自由,享樂,歡笑
牽著丈夫的一隻手
他的另一隻手摟著我的肩
如此安心又溫馨
依偎在柔情擁抱
被輕捧著
躺在他的掌心中
仰望著世界最高的大樓
上面仍有無止盡的空間
頓時,身邊所有龐然大物瞬間變小
我宛若滄海一粟
我要好好做自己
昂首闊步走在自由的大地
慢慢傾訴無限的款款深情