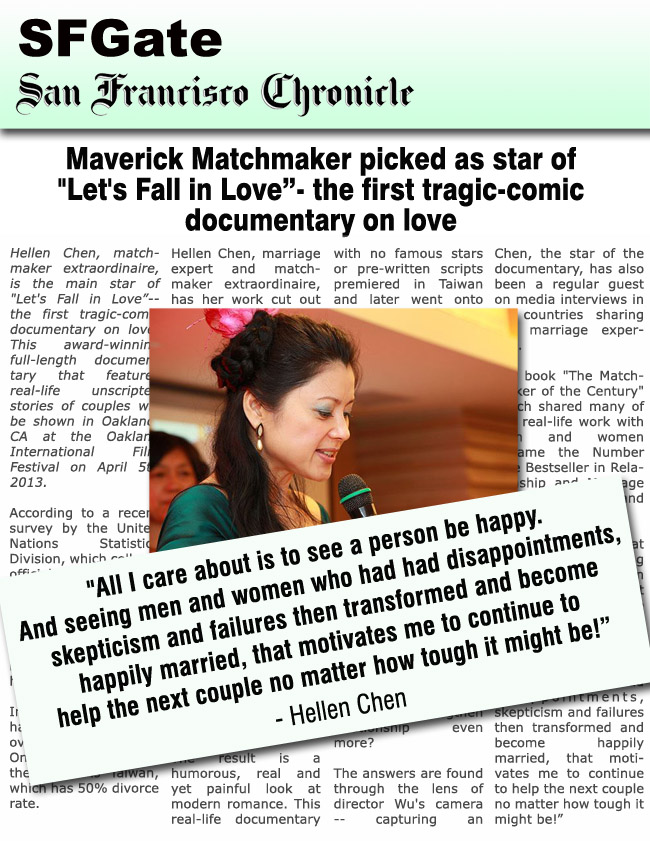 Hellen Chen, matchmaker extraordinaire, is the main star of "Let's Fall in Love"– the first tragic-comic documentary on love. This award-winning full-length documentary that features real-life unscripted stories of couples will be shown in Oakland, CA at the Oakland International Film Festival on April 5th 2013.
San Francisco CA (PRWEB) March 27, 2013
According to a recent survey by the United Nations Statistics Division, which collects official data on marriage and divorce from over 200 countries on an annual basis, United States rank #5 in the world in having one of the highest divorce rates.
In Asia, divorce rates have gone up as an overall trend as well. One of the highest in the region is Taiwan, which has 50% divorce rate.
Hellen Chen, marriage expert and matchmaker extraordinaire, has her work cut out for her. For the past 10 years, she specialized in helping notorious bachelors and spoiled bachelorettes to turn around and take on the responsibilities of marriage.
Award-winning Director Wuna Wu heard about this maverick matchmaker through many happy couples and decided to follow Chen around with a camera as she counseled couples. Another agenda came from Wu's desire to settle down in marriage and after many failed attempts, she decided to open herself up to seek the help of Matchmaker Chen.
The result is a humorous, real and yet painful look at modern romance. This real-life documentary with no famous stars or pre-written scripts premiered in Taiwan and later went onto major film festivals and captured the hearts of audiences internationally.
On April 5th, this documentary which featured US Matchmaker Hellen Chen, will be shown at the Oakland International Film Festival in California.
How does a no-nonsense matchmaker turn the fear of men or women who have been burned by bad relationships into real courage to embrace love again? How can problems – marriage infidelity, cold tactics, indifferences — turn out to be the factors that will strengthen relationship even more?
The answers are found through the lens of director Wu's camera — capturing an unscripted folding of events and resolving magically under the skilled hands of a passionate matchmaker. Chen, the star of the documentary, has also been a regular guest on media interviews in 15 countries sharing her marriage expertise.
Her book "The Matchmaker of the Century" which shared many of her real-life work with men and women became the Number One Bestseller in Relationship and Marriage books at Barnes and Noble.
Never thinking that her work of helping men and women in affairs of the heart would be taken to the big screen, Chen said, "All I care about is to see a person be happy. And seeing men and women who had had disappointments, skepticism and failures then transformed and become happily married, that motivates me to continue to help the next couple no matter how tough it might be!"
For more information about the showing at Oakland International Film Festival, visit:www.oaklandinternationalfilmfestival.com/shorts-narrartives/lets-fall-in-love-screens-in-oiff11